Posted in 2009

ROROs in Conakry with Afritrans (Guinée)
Afritrans (Guinée) handles fast growing RORO operation
Since 2009, Afrimarine and Partners have enhanced their capacity, infrastructure and manpower to handle several ROROs and project cargo ships calling Conakry.
From small vehicules (new and used), vans, trucks, heavy machinery, to crates of spare sparts, Afrimarine's RORO operations division known as Afritrans (Guinée).
UPDATE : AFRITRANS SERVICE DISCONTINUED IN 2011
Our transhipment offer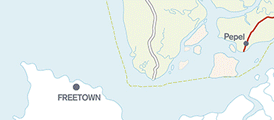 Afrimarine has harnessed experience from 2 transhipment operations in Sierra Leone (Chebro River and Pepel), during a combined period of 4 years; de facto making us the most experienced regional firm in this segment of the mining export operations cycle.
Afrimarine offers a complete transhipment operations management package, including all aspects below:
Download here our detailed offer in PDF format.
We apreciate your continued support!