DISCHARGING WHEAT IN CONAKRY
An on-going win-win collaboration in Conakry with "Les Grands Moulins du Mali"
M/V GORA (late 2014), and M/V HARMA (March 2015) sailed from Conakry port having incurred NO delays, either at entry, during operations, nor at time of sailing.
The long lasting relationship between GMM and Afrimarine strengthens with improved communication and mutual respect.
M/V HARMA discharged her shipment of 8500 MT wheat cargo in Conakry port, in full accordance with C/P, allowing her to reposition herself in Dakar, Senegal, upon completion, for her next contract.
All parties satisfied.
Grands Moulins du Mali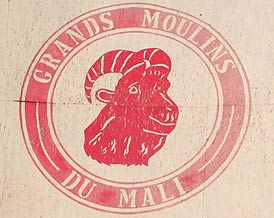 Le Groupe AMI ( Achcar Mali Industrie) a débuté son activité industrielle au Mali en 1950 avec la création.

Son activité industrielle a vu le jour dés 1950 avec la création de la confiserie Emile Achcar (ancêtre de la Grande Confiserie du Mali).

Emile Achcar le fondateur racheta en 1954 un complexe industriel, où seront fabriqués de la glace et de la limonade ; des briques cuites, carreaux de ciment et aussi de l'huile et du savon...
We apreciate your continued support!