TRANSSHIPMENT OF ARMED SECURITY PERSONNEL
Afrimarine transferred a team of security guards onboard a tanker vessel at anchorage - fighting piracy in West Africa.
Afrimarine is pioneering transshipment of armed guards onboard vessels calling West African ports.
With piracy slowing in the East, due to a strong response from security service companies,
growing attacks in West Africa have sparked an increase in the demand for security forces, with armed guards, onboard ships sailing along the Gulf of Guinea.
Maritime Security services have trusted Afrimarine in pioneering a smooth and efficient transfer of teams of armed guards, with their weapons, onboard a fuel tanker bound for Nigeria.
The team was picked up at Conakry airport with all clearances pre-established, and escorted to their hotel, before being delivered, via launch boat, to their final embarkation on a ship temporarily stationed off conakry anchorage / Pilot Station.
Afrimarine is well versed in all difficulties relating to obtaining official clearances for such operations, particularly, in countries sensitive and vulnerable to political and military instability.
We take extreme precaution with these matters and will only Go-ahead with a transfer when we are satisfied that all clearances have been obtained and all concerned parties informed.
Our transshipment service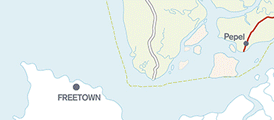 Afrimarine has harnessed experience from 2 transhipment operations in Sierra Leone (Chebro River and Pepel), during a combined period of 4 years; de facto making us the most experienced regional firm in this segment of the mining export operations cycle.
Afrimarine offers a complete transhipment operations management package, including all aspects below:
Download here our detailed offer in PDF format.
We apreciate your continued support!