Who is Afrimarine ship agency?
40 years experience in World shipping
Afrimarine, founded in 2005 by Mamadou T. Sow, is engaged in several segments of maritime activities.
Involved from the begining of maritime institutions in Guinea.
Previously, Mamadou T Sow had been intimately involved in the formation and running of Guinean State-Owned firms Entreprise Nationale de Transport Routier, d'Acconage et de Transit (ENTRAT), Société Navale Guinéene (SNG), Office Guinéen pour le Transport Maritime (OGTM), Société Guineo-Norvégienne de Transport Maritime a (GUINOMAR) - a shipping joint venture between the Government of Guinea and The Torvald Klaveness Group of Oslo, Norway - and BAUMARINE, a Panamax Pool managed by the Torvald Klaveness Group.
Senior Shipping Professionals
Afrimarine has always been manned by senior commercial and technical officers licensed in Scandinavian official institutions. For several decades, Afrimarine's key commercial personnel worked for Norwegian shipping companies and merchant marine officers served onboard Norwegian technically managed ships. They held various positions such as Senior Chartering Director, Master, Chief Engineer, etc.
State of the Art Telecommunication Systems
To best serve our customers, Afrimarine invested in quite expensive, but effective telecommunication systems, both in Kamsar and in Conakry. The use of Vsat at Kamsar and high speed Wimax telecom system at Conakry enables us to efficiently communicate with any ship and her operator, any time any where. We are all fluent in English, French and other languages and comfortably familiar with IT systems.
Solid Relationships in Africa
Afrimarine is manned by Guinean Nationals who have been closely associated with Guinean maritime matters since day #1 of the Guinea's independance. This has given the opportunity to build and maintain strong relationships with almost all local officials involved in the mining and transportation industries. Through our solid contacts in the mining and shipping industries, we enjoy the confidence of many in the bauxite, panamax and handymax worlds.
Our Team
A team of highly experienced managers and sea-proven officers for an ever changing environment.
Afrimarine believes and applies the philosophy of " The right person, for right position! " as illustrated by our team's credentials.
Mamadou T SOWFounder - Business Development
Ibrahim SOWCEO - Business Development
Captain Abdoulaye BARRYKamsar Operations Manager
Abdoulaye KOUYATEConakry Operations Manager
Captain Hussein AFZALFreetown Operations Manager
C/O Imran KHANFreetown office Deputy Manager
Madiba FOFANASenior Marine Officer - Kamsar Office
Captain Mamadou SOWChartering Manager - Casablanca, Morrocco
Cheihk Alioune DIALLOBoarding Agent - Conakry Operations
FODE DIALLOCheif Marine Engineer - Conakry Operations

Conakry Office

Kamsar Office
Afrimarine is open minded and always receptive to new business opportunities and partnerships.
Afrimarine Full Ship Agency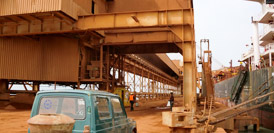 Do appoint Afrimarine as your ship agent in Guinea, and we will do the needfull to have your interests properly protected in Guinea.
Operating 24/7.
We apreciate your continued support!