SPANISH NAVY SHIP
Official visit from the Spanish Navy to Guinea in July 2013.
Afrimarine, as agent, provides full ship services in Conakry port, and manages crew's movements between official visits.
From ship services to bus shuttling to/from government and diplomatic agencies,
Afrimarine offered a full package ranging from fencing and securing a buffer zone around the ship's berth, having permanetnly stationed cranes, gangway, air-conditionned mini-buses, internet connectivity, fresh water supply, provisions, local phone lines, etc.
Our transshipment service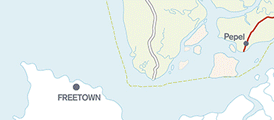 Afrimarine has harnessed experience from 2 transhipment operations in Sierra Leone (Chebro River and Pepel), during a combined period of 4 years; de facto making us the most experienced regional firm in this segment of the mining export operations cycle.
Afrimarine offers a complete transhipment operations management package, including all aspects below:
Download here our detailed offer in PDF format.
We apreciate your continued support!