RORO NEWS
Afrimarine fully overhauls its security.
Afrimarine teams-up with IC Inter-Con Security.
In its continued efforts to eliminate theft and secure its operations and vehicle parks,
Afrimarine has completely overhauled its security apparatus and braught-in IC Inter-Con Security, premier U.S. security company, providing a full range of physical security services to Government, commercial, and Fortune 100 customers on four continents.
This new security apparatus comes as a first in Conakry port where theft and insecurity is widespread. Clients and authority have acclaimed the move.
In beefing up security, Afrimarine proves to its clients that the security/integrity of their goods is of key importance to the company, and that we will take all necessary steps to protect and maintain their vehicles, and eventual personal items within them, in the same state as they were when embarked.
We are working for ZERO theft tolerance, so clients can have peace of mind once their vehicle is embarked and destined for Conakry.
Our transshipment service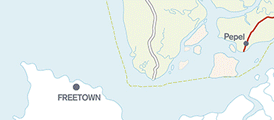 Afrimarine has harnessed experience from 2 transhipment operations in Sierra Leone (Chebro River and Pepel), during a combined period of 4 years; de facto making us the most experienced regional firm in this segment of the mining export operations cycle.
Afrimarine offers a complete transhipment operations management package, including all aspects below:
Download here our detailed offer in PDF format.
We apreciate your continued support!