AFRIMARINE : WORLD FOOD PROGRAM'S (WFP) SHIP AGENT IN SIERRA LEONE
Ebola relief assistance with WFP in Sierra Leone
In October 2014, Afrimarine was appointed by WFP to assist with the agency of a bulk ship vessel, set to call
in rotation, Dakar, Conakry, Freetown and Monrovia.
M/V Falkenberg was chartered by WFP to bring food-aid and assistance to all three countries (Guinea, Sierra Leone, Liberia) heavily affected by the Ebola virus in West Africa.
Several voyages were performed on a timespan of four months, running into late January 2015.
Quoting from WFP's website www.wfp.org/countries/sierra-leone and www.wfp.org/emergencies/ebola,
People who are being treated for Ebola need good, nutritious food. So do their families, who may be struggling if the sick person is the main bread-winner. But people in quarantine also need food because they are often not able to go to markets to buy it. If they don't receive food, they will be forced to break quarantine in order to find it. This puts many more people at risk.
That's why, with the help of partners on the ground, food is being distributed to people under quarantine and people in treatment (and their relatives). But it doesn't stop there. WFP's goal is to prevent a health crisis from becoming a food crisis. So it is also delivering food for entire communities that have been hit hard by the outbreak.
The food assistance donated through WFP consisted of rice, energy bars, beans and more.
Read more @ www.wfp.org/ebola-emergency/food-assistance
WORLD FOOD PROGRAM (WFP) - SIERA LEONE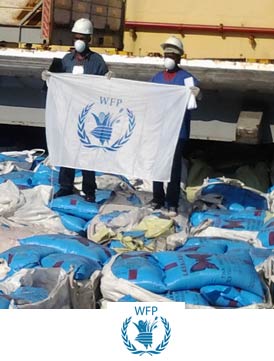 WFP Activities
WFP has been operational in Sierra Leone since 1968. WFP supports the southern, northern, eastern and western area regions with an office in Freetown and two sub-offices located in Kenema and Makeni.
Goto WFP's website.
We apreciate your continued support!