A SHIPMENT OF STEEL BARS IN CONAKRY PORT
M/V VADI calls Conakry port with 9900 MT steel bars.
Despite heavy congestion at ROADS,
On the account of "TAFAGUI", a major industrial group in Guinea, M/V VADI called Conakry port berthing on-arrival and remaining alongside without any shifting to anchorage, during her entire discharge operation.
This despite small difficulties encountered with cargo handling/stevedoring (equipment, trucks and attendance).
Worth noting that Afrimarine was not the performing liner agent on this call.
TAFAGUI Guinea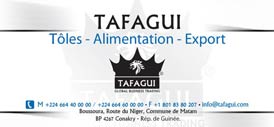 Tafagui's mission is to develop annd grow strong customer relationships built on trust.

TAFAGUI is a major import / export player in Guinea.
Find out more by visiting www.societeguinee.com/fr/secteurs?sobi2Task=sobi2Details&sobi2Id=38
We apreciate your continued support!