IRON ORE TRANSHIPMENT IN SIERRA LEONE, PEPEL
A complex logistics and transhipment operation.
Afrimarine involved since day one with its team of experts and Master Mariners.
After 30 years of stoppage due to a long civil war, Mining giant, African Minerals ltd., has repositioned
Sierra Leone as one of the major exporters of minerals in Africa. Notably, exporter of iron ore and derivatives, with a projected 35 million metric tons export target by end of 2013.
From the outset of the marine operations phase in mid 2011, Afrimarine was called upon by Australian group, Sea Corporation, for its unique expertise in the sub-region; notably, its confirmed team of local, and expatriate, experts in the maritime field.
Our experienced team of Master Mariners, Inspectors and surveyors, proved to be critical in the callibration of the loading / shore scale / belts / etc., of African Minerals installations at Pepel port. This during the initial test shipments of the operation, up until present date, where the operation is in its cruising speed, with transhipment from transhipment vessels (TV), into Ocean going vessels (OGV) (capesize), all at anchorage.
Afrimarine's prime activity is to determine the exact loaded quantity per TV/OGV, and guide loading operations (Pepel and anchorage) accordingly.
Nearly 2 years into this project, involved in all marine operation aspects, Afrimarine is well experienced and positioned to export its expertise to all similar transhipment operations in West Africa, and beyond.
Our transhipment offer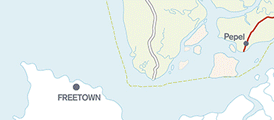 Afrimarine has harnessed experience from 2 transhipment operations in Sierra Leone (Chebro River and Pepel), during a combined period of 4 years; de facto making us the most experienced regional firm in this segment of the mining export operations cycle.
Afrimarine offers a complete transhipment operations management package, including all aspects below:
Download here our detailed offer in PDF format.
We apreciate your continued support!