HUSBANDRY SERVICES FOR M/V MIRAMAR
Afrimarine (SL) offers m/v MIRAMAR a full set of husbandry services
Involved with m/v Miramar in Freetown since 2013,
with operations initially scheduled to start in Q4 2014.
Afrimarine has provided a full set of husbandry services to the subject vesel, ranging from certificate updates, crew changes, meet & greet, bunkering, West African cross-border lube oil supply, crewing and security services (rotation of armed guards while vessel anchored at at inner anchorage, and while at roads for extended periods of time).
In addition to the above, Afrimarine heavily assisted m/v Miramar in her relocation/towing from Freetown, Sierra Leone to Dakar, Senegal, by proposing cost-effective chartering towing options (tugs).
Afrimarine Ship Husbandry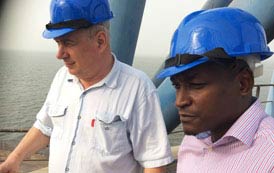 We apreciate your continued support!