Our Services
Full Ship Agency Services in Conakry, Guinea.
Protecting your interests and delivering quality consistantly.
Afrimarine offers a full range of ship agency specific services such as: stevedoring, On hire and condition surveys, logistics, cargo clearance, ship brokerage, roro operations, freight forwarding, market intelligence and commercial representation.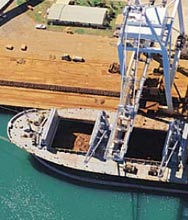 Over the years Afrimarine has grown to meet the needs of some of the world's largest companies. Container vessels, tankers, car carriers, dry bulk carriers, trampers, etc.

Technical Services - Ship Repairs and Maintenance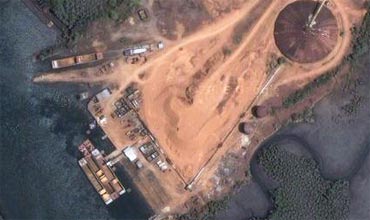 Afrimarine was contracted in 2008 for a complete fleet upgrade ( 3 Push-boats + 7 barges ) in Sierra Leone during a 21 months period.
CASE STUDY: Fleet Repairs and Equipment upgrade
Afrimarine is adequately equipped with a good team of first class engineers able to perform technical missions for the account of mining and other industrial companies operating in the West African Coast...
To illustrate this, Afrimarine recently executed several missions for the account of a major West African bauxite mining company shipping out to Europe and North America.
During the process and concomitant with the enhancing of the bauxite loading rate, Afrimarine organized and executed the upgrading of entire fleet of SMHL constituted of 3 push-boats and 7 barges within a period of 20 months. The job consisted in carrying out a through survey of the fleet, ordering new engines and new spare parts, ordering consumables, training qualified labor force, supervising actual upgrading work and developing appropriate maintenance planned systems (PMS) for further guidance.
One of the 3 push-boats had both main engines renewed; its anchor, windlass and chain renewed; its navigation aids and safety equipment renewed; 80 % of bottom and side plate renewed; she was overall painted with anti-corrosive, anti-fouling and new furniture installed.
The other 2 push-boats got their main engines fully overhauled and replated; anti- corrosive and anti-fouling painted with new navigation aids and safety equipment installed.
The barges were temporary replated and one of them was repaired with good dry docking (replating, frames reinforcing, painting).
ROROs in Conakry with Afritrans (Guinée)
Afritrans (Guinée) handles fast growing RORO operation
Since 2009, Afrimarine and Partners have enhanced their capacity, infrastructure and manpower to handle several ROROs and project cargo ships calling Conakry.
From small vehicules (new and used), vans, trucks, heavy machinery, to crates of spare sparts, Afrimarine's RORO operations division known as Afritrans (Guinée)
Services in Short
With nearly 90% of all vessels calling Kamsar and a rapidly rising number of ships calling Conakry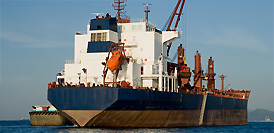 Afrimarine offers the following services:
Operating 24/7.
We apreciate your continued support!